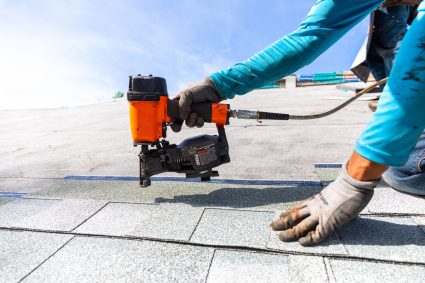 There are a few jobs around the house that it is almost ALWAYS best to hire a professional to help you with. Plumbing work, electrical work and roofing work come to mind as categories of home improvement projects that an experienced professional can ensure that the project is done correctly to prevent future problems. While Tollefson Bros. Exteriors do not have experience with plumbing or electrical issues, we can help you with roofing repair or replacement. Climbing up on a roof requires ladders and equipment for safety. It is always best to hire a professional for roof work. Our team can take a look at your roof and determine if there are areas that need to be repaired and/or replaced and offer you an affordable and competitive estimate quickly, so that you do not have to worry about water getting into your home.
Annual Roofing Inspections
Your roof is responsible for keeping your home protected from the elements (snow, rain, hail, wind and even sunlight). Your roof is difficult to access for most homeowners so there can be a problem developing for months (or longer) without you ever knowing about it. It is wise to have an annual roof inspection to be sure that there are no vulnerable areas. In addition, if you can see shingles flapping or notice that a piece of roofing has fallen to the ground, it is important to act fast and get professional roofing contractors out as soon as possible.
Tollefson Bros. Exteriors has been completing roofing work for more than twenty-five years in Bloomington and Minneapolis/St. Paul area. We offer a wide variety of energy efficient roofing materials that can add value to your home and drive down those monthly energy bills. We can also assess and complete any roofing repairs after a storm has blown through, and work with your insurance adjuster to be sure that you receive the most from your claim.
Experienced Roofing Contractors in Bloomington, MN
Your roof is one of the most important parts of your home and also one of the most difficult to access on a daily basis. When you partner with the roofing contractors at Tollefson Bros. Exteriors, you will get a team that is experienced, responsive and will give you affordable pricing. No more climbing that ladder to try to get a look at your roof. Call us at 952-881-2218 for a free roofing repair/replacement estimate.