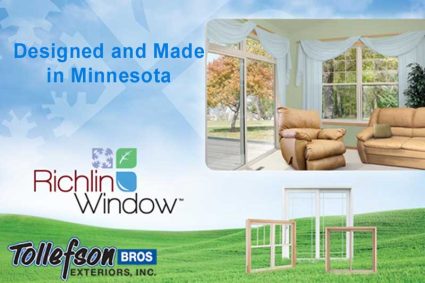 Are you concerned about wear and tear on the outside of your home? Maybe your home is older, and you are noticing leaks in your windows, some rotting siding or are concerned about a problem on your roof. Or maybe you are looking to sell your home in the next year and want to get ahead of some necessary exterior repairs. Tollefson Bros. Exteriors is a reliable, affordable exterior contractor that provides high quality repairs at competitive pricing. We understand that the idea of these kinds of repairs may be overwhelming and stressful. Let us take this stress about the unknown off your shoulders. We can identify, explain and repair your siding, roofing and also replace your windows and even add insulation in your attic.
Affordable Exterior Contractor In Bloomington Minnesota
One of the issues that drives our work is trying to help your home become more energy efficient. This is especially important when it comes to evaluating your windows. Your old windows may be leaking significantly driving your monthly energy prices up. We offer a wide variety of replacement window options that are ideal for homes in Minnesota that can drive down your monthly energy bills by approximately 20-40%. We also offer other energy saving options including adding expanding fiberglass insulation.
Our contractors are also experienced with siding and roofing repairs and replacement. Our maintenance free siding options come in many different styles and colors and can last for many decades without painting! New siding is an excellent investment and will literally transform the look of your home and increase your home's value as well.
Finally, our contractors can help you with any roof repairs you need. It is wise to have your roof checked annually, just to be sure that any small issues are repaired promptly so that they do not get worse and cause water damage inside your home. Our roofing contractors have more than two decades of experience with roofing repair and replacement. We offer energy efficient options for your roofing materials as well including Owens-Corning Roofing, GAF Roofing and CertainTeed Asphalt Roofing. Our team can also complete storm damage assessment, repair and will even communicate directly with your insurance coverage to maximize your coverage.
Bloomington, MN Exterior Contractors
So, if you have a project that you need done on the outside of your home, call the team at Tollefson Bros. Exteriors. We pride ourselves on doing excellent work, providing excellent customer service and competitive pricing. For more information, call us at 952-881-2218 to schedule a time for a free estimate.